The Brand JOLLY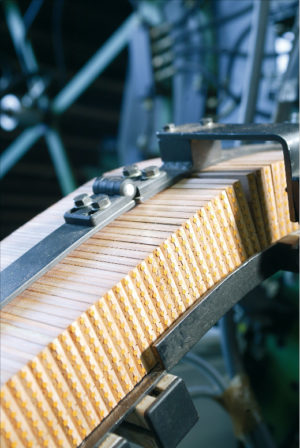 1965: The brand is born
The Rolling Stones storm the charts, the first satellites go into space, and the brand Jolly is born. For generations, Jolly products have been the epitome of articles for painting, drawing and writing. Jolly is a brand that brings a smile to your face. Who hasn't been astonished at the 36 or even 48 colour pack? As a child we wished for them (and rarely got them) – as adults, we still want to to be children.
Austrian production guarantees high quality and reliability. Jolly offers products that put a smile on the faces of children and adults – today as they did then.
Jolly's painting materials are still produced in Austria. Every year, millions of pencils, colours and leads are produced at the two sites in Graz and Hirm.
Quality is particularly important to us. Many of our employees have been with the company for decades and carefully produce Jolly's painting materials. "Kinderfest" is a term coined by the Jolly brand. It guarantees long-lasting and child-safe products.
Innovations 
Jolly always surprises with new ideas: Aqua2go, the brush with a water tank his just one example. 
New Products 
The vibrant Jolly tempera colours in tubes or bottles offer great painting fun! Due to the high pigment density, they have strong covering power. Bright, brilliant colours convince on paper, canvas or other materials. Painted with a brush or spatula – here are no limits to creativity.
The Jolly Colour World
The charm of seeing the pens in a colour parade in the box never gets lost. Not only children but also adults get shining eyes. Terms such as "carmine red", cyclamen or the famous "flesh colour" are coined by the Jolly brand. Even today, the smell of wood and the beginning of school still rise in the nose of many of us with these terms.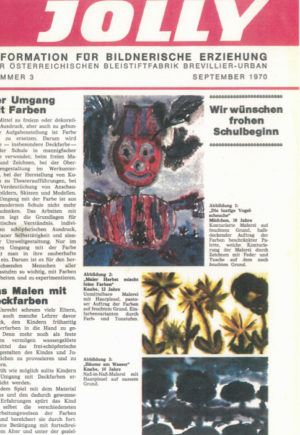 Jolly is an integral part of visual education for a long time. Here is an excerpt from a magazine for teachers from 1970.
Jolly has accompanied children since 1965 in drawing, painting and writing.
Over time, there were different drawn versions.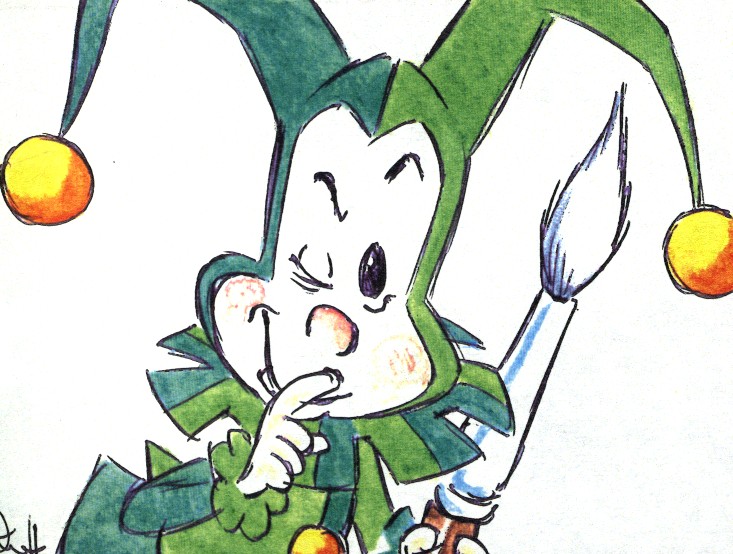 JOLLY 1975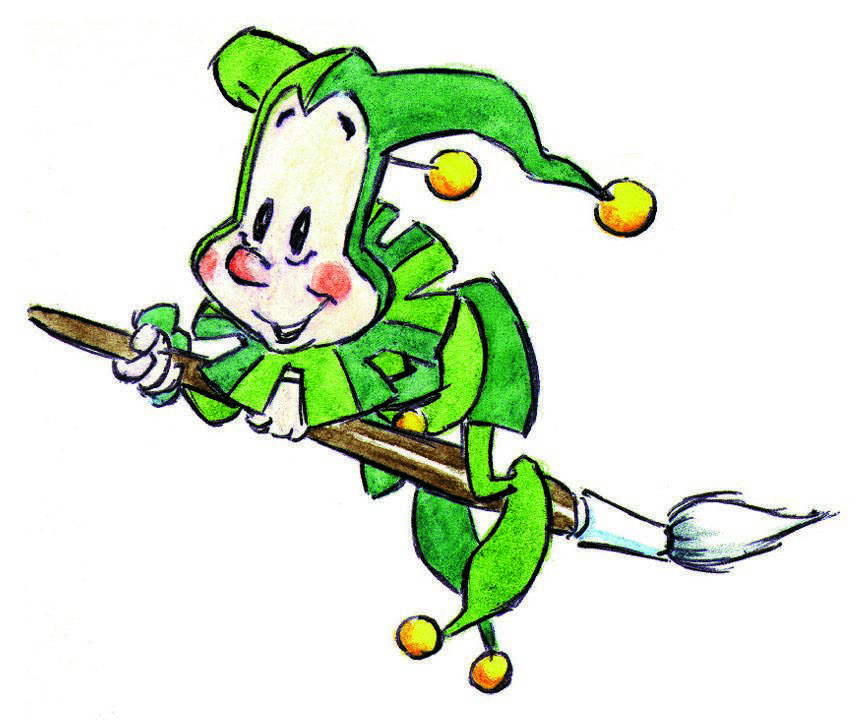 Flying JOLLY 1975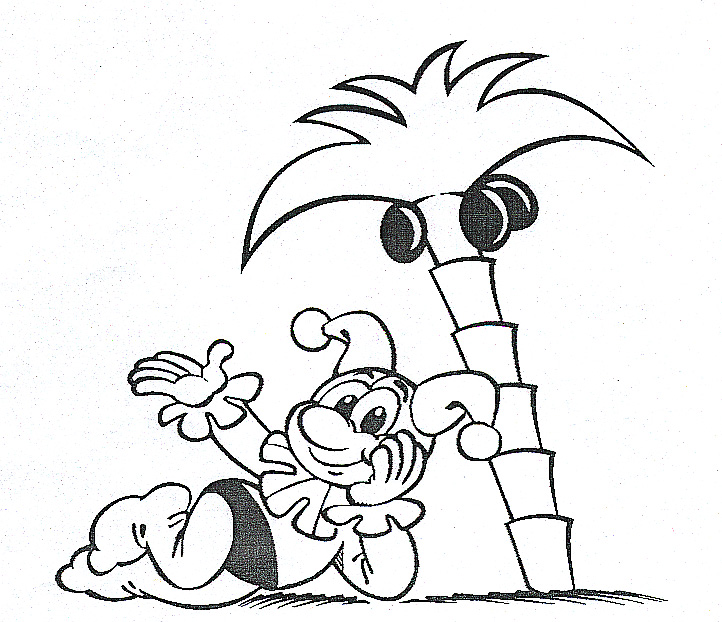 JOLLY on holiday - 1980
Do you remember?
A quick look back at Jolly products that many of us know from our childhood.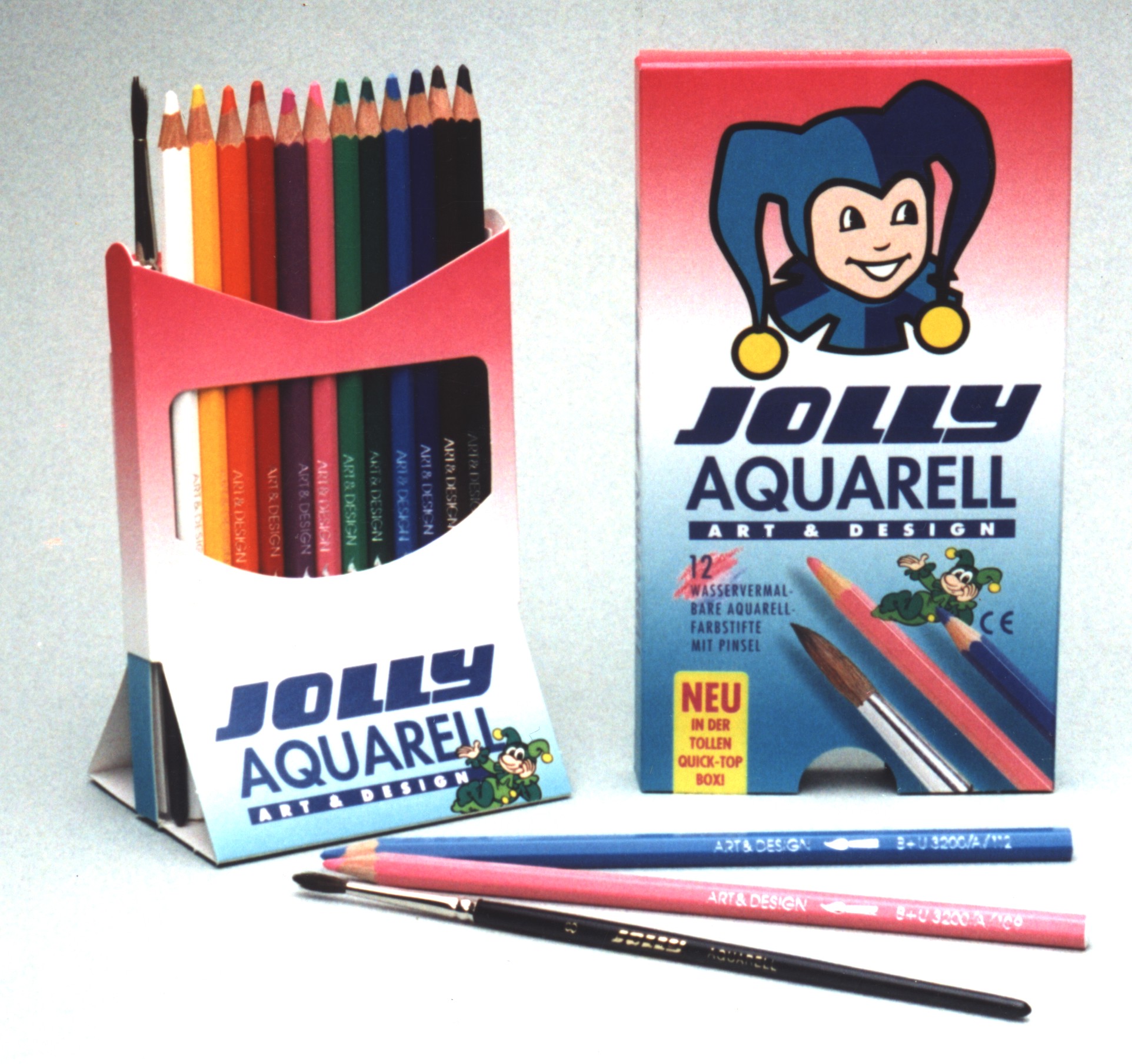 JOLLY Aquarell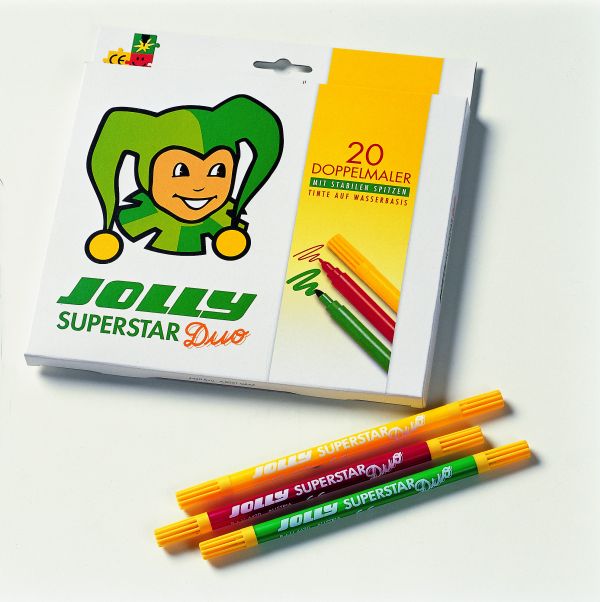 JOLLY Superstar Duo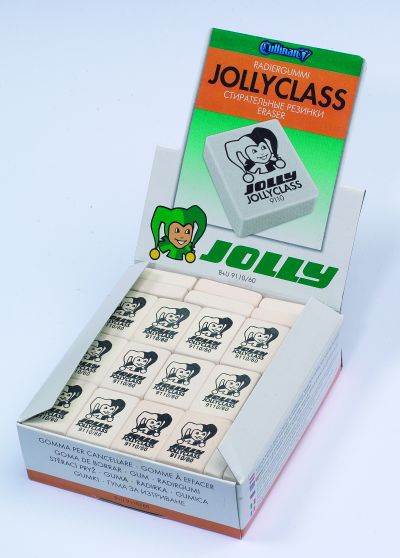 JOLLY Eraser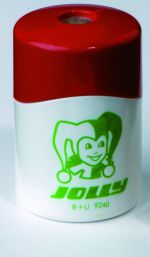 JOLLY Sharpener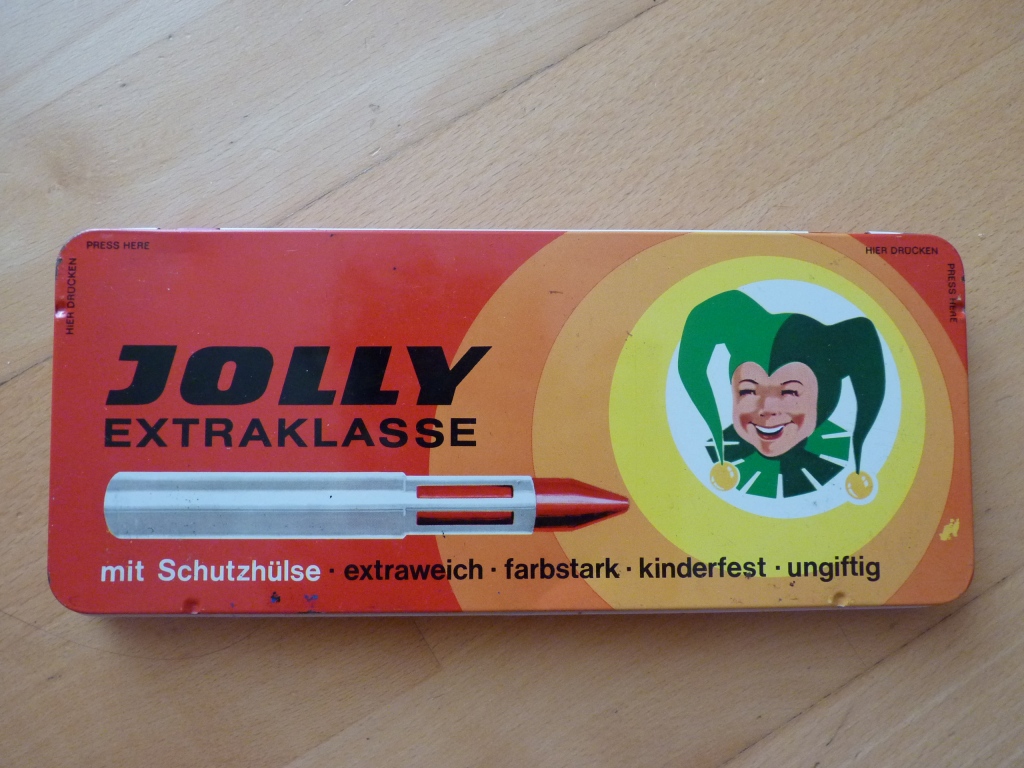 JOLLY wax crayons "Extraklasse"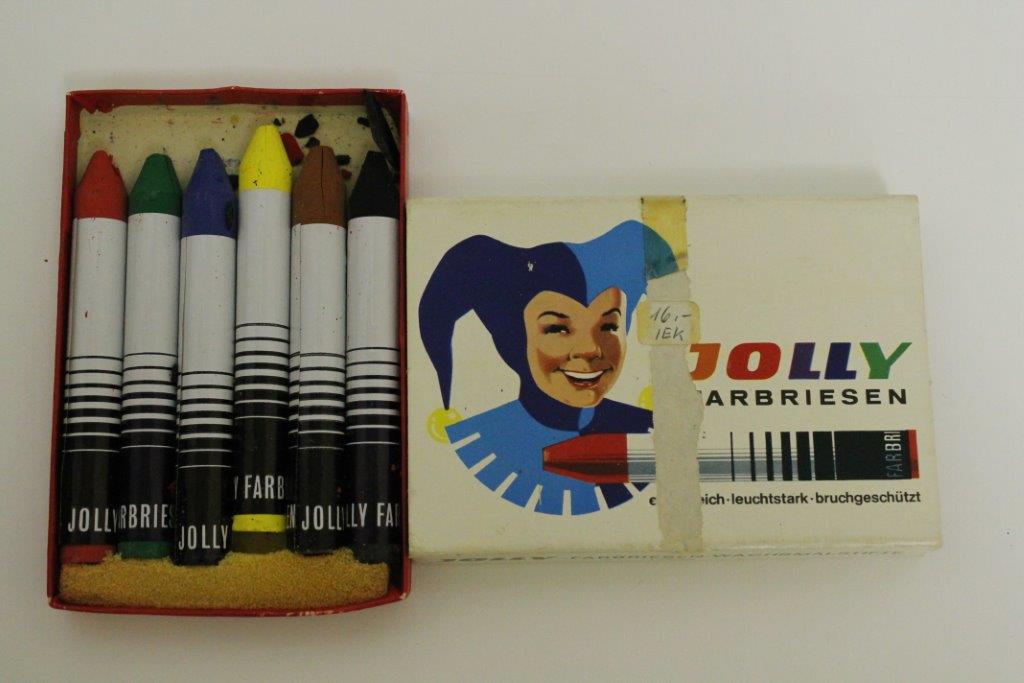 JOLLY wax crayons "Farbriesen"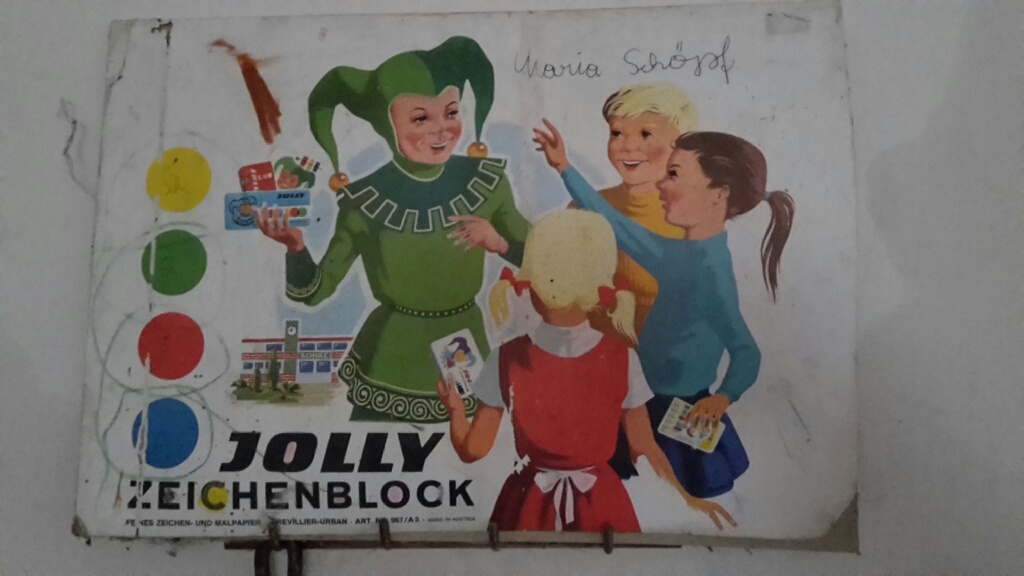 JOLLY drawing paper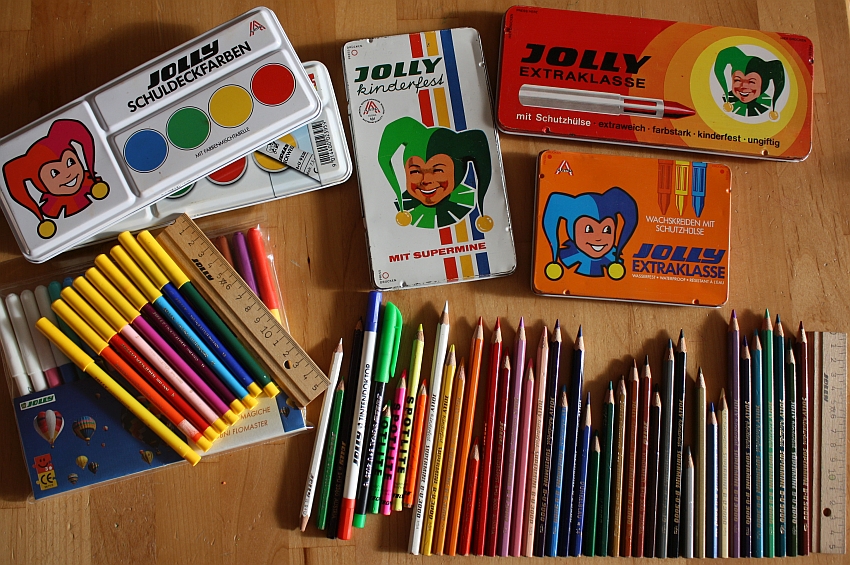 JOLLY several products