Supersticks Delta 24 Colours
Supersticks Delta 24 colours: The ergonomic coloured pencil with the 3.8 mm thick lead is perfect for pre-school. The 3-edge shape of the pen promotes a relaxed writing posture and thus ensures comfortable drawing and great colouring fun.
Proven Jolly quality has accompanied children drawing and painting for generations.
especially ergonomic
ideal for children's hands
comfortable, long-lasting drawing fun
thick lead
strong wooden casing
break resistant
The strong lead is 3,8 mm thick!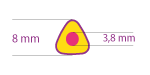 12 colouring pencils in basic colours – for long-lasting drawing fun!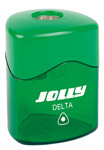 Perfect sharpening with JOLLY Delta sharpener!
See more here.
The package contains coloured pencils in these bright colours:
1 white
2 light yellow
3 dark yellow
4 orange
5 vermillion
6 cherry red
7 crimson
8 cyclamen
9 pink
10 flesh pink
11 violet
12 light blue
13 ultramarine
14 dark blue
15 light green
16 turquoise
17 emerald green
18 dark green
20 light brown
21 medium brown
22 dark brown
24 black
25 silver
26 gold
---