Supersticks Delta BIG BOX
Supersticks Delta BIG BOX: This useful box with lid is easy to clean and helps you to organise your crafts materials. The boxes are stackable and provide a smart way of storing.
Supersticks Delta 12 colours: The ergonomic coloured pencil with the 3.8 mm thick lead is perfect for pre-school. The 3-edge shape of the pen promotes a relaxed writing posture and thus ensures comfortable drawing and great colouring fun.
Proven Jolly quality has accompanied children drawing and painting for generations.
especially ergonomic
ideal for children's hands
comfortable, long-lasting drawing fun
thick lead
strong wooden casing
break resistant
The strong lead is 3,8 mm thick!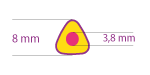 Clever storing with JOLLY BIG BOX!
240 crayons in 12 colours
stackable boxes
easy cleaning
stable plastic
Colouring pencils Supersticks Delta BIG BOX
The box contains 240 coloured pencils in 12 shades. Painting fun for 20 children – even if everyone wants to paint with the green one at the same time 😉
The package contains crayons in following Bright colours:

2 light yellow
4 orange
6 cherry red
7 crimson
8 cyclamen
9 pink
12 light blue
14 dark blue
15 light green
18 dark green
21 medium brown
24 black
Using the crayons with its rich colours ensures particularly colourful drawings and sparkling children's eyes!
---