Supersticks Aqua 12 Colours
Supersticks Aqua 12 Colours are tried-and-tested coloured pencils from Jolly – water-soluble. Bright colours, ultra-strong wooden sleeves and the well tested Jolly lead have made our Supersticks the most popular coloured pencils for drawing and colouring for several generations.
water-soluble
lead abrasion from sharpening usable
cool effects even on dark paper
amazing colour gradients
break-resistant lead
exciting watercolour effects
Painting with a brush produces particularly beautiful watercolour effects.
Produce particularly beautiful watercolour effects due to painting with a brush. Of course, also from Jolly. 😉
The strong lead is 3,8 mm thick!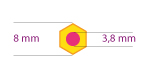 Perfect Add-On:


Aqua2go brush with water tank!
See more here.
The package contains crayons in these Bright colours:
102 light yellow
104 orange
106 cherry red
109 cyclamen
110 flesh pink
111 violet
112 light blue
114 ultramarine
116 light green
117 dark green
121 sepia
122 black
---