Supersticks XXL Boxx 48 "Draw and Play"
Supersticks XXL Boxx 48 Colours bring the total drawing fun! All 48 shades offer the ultimate colour choice! Supersticks Classic are proven crayons from the Austrian brand Jolly. The break-resistant lead, vibrant colours and the quality of Austrian production ensure brilliant drawing fun!
With this XXL box, you don't just get 48 crayons – the packaging is also there to play with!
Forty play magnets can stick to the metal box. It even includes two folding cubes!
 
FSC-certified lime wood
especially ergonomic
ideal for children's hands
comfortable, long-lasting drawing fun
thick lead
strong wooden casing
break resistant
all 48 colours in one package
It also contains four game templates, 40 game magnets and two folding cubes! 
The strong lead is 3,8 mm thick!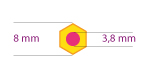 Supersticks XXL Boxx 48 colours are available in limited editions – watch out!
Matching sharpeners from JOLLY see more here.
The package contains crayons in these 48 Bright colours:
1 white
28 ivory
3 dark yellow
2 light yellow
47 lemon yellow
46 pale orange
4 orange
5 Vermilion
6 cherry red
7 crimson
37 violet
10 flesh pink
49 pale pink
8 cyclamen
9 pink
39 dark pink
29 rose pink
30 lavender
11 violet
31 blue-violet
42 pale violet
14 dark blue
13 ultramarine
12 light blue
27 cobalt blue
41 aquamarine
50 pale blue
32 sky blue
15 light green
16 turquoise
51 pale turquoise
33 pastel green
34 bluish green
18 dark green
17 emerald green
35 olive
40 ochre
20 light brown
21 medium brown
36 reddish brown
19 gold ochre
22 dark brown
38 sepia
24 black
23 grey
48 light grey
25 silver
26 gold
---