Happy Birthday Coloured Pencils
Happy Birthday coloured pencils edition provides sparkling children's eyes! The birthday child's name is printed on the case and every pen! 
This edition is a perfect birthday present. The 3-sided crayons are ergonomic are proven quality. Even four neon shades are included – great birthday fun!
Proven Jolly quality has accompanied children drawing and painting for generations.

especially ergonomic
ideal for children's hands
comfortable, long-lasting drawing fun
thick lead
strong wooden casing
break resistant
The strong lead is 3,8 mm thick!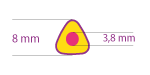 Twelve colouring pencils in primary colours – for long-lasting drawing fun!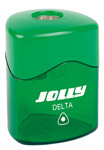 Perfect sharpening with JOLLY Delta sharpener!
See more here.
The package contains coloured pencils in these bright colours:
neon yellow
neon orange
neon pink
neon green
1 white
2 light yellow
4 orange
5 vermillion
7 crimson
8 cyclamen
9 pink
10 flesh pink
11 violet
12 light blue
13 ultramarine
15 light green
16 turquoise
17 emerald green
18 dark green
20 light brown
22 dark brown
24 black
25 silver
26 gold
---