Coloured pencils Pastello Bello
Now it's getting pastel! Because at JOLLY there is a special edition only with pastel colours!
16 delicate shades of colour provide the romantic look of the drawings! As always ultra-strong wooden sleeves and the well tested
Jolly leads guarantee pure drawing fun. Proven Jolly quality has accompanied children drawing and painting for generations.
thick lead
break resistant
comfortable, long-lasting drawing fun
reinforced wood casing
long-lasting drawing fun
with cute colouring book! 
The strong lead is 3,8 mm thick!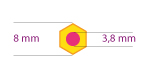 Matching sharpeners from JOLLY: see here.
The package contains coloured pencils in these bright colours:
1 white
28 ivory
47 lemon yellow
46 pale orange 
4 orange
10 flesh pink
49 pale pink 
39 dark pink
42 pale violet
50 pale blue  
32 sky blue 
51 pale turquoise 
33 pastel green 
40 light brown
19 gold ochre 
48 light grey 
---