Supersticks Aqua BIG BOX
Jolly Supersticks Aqua BIG BOX offer simultaneous colouring fun for several children at the same time! The water-soluble coloured pencils include the proven lead and are break-proof.
Their bright colours ensure brilliant colouring fun! 20 pens in 12 colours are the most popular package for all groups of children. Kindergarten, school or party – everybody paints at the same time! The boxes are made of sturdy plastic.

They are stackable and easy to clean!
water-soluble
lead abrasion from sharpening usable
cool effects even on dark paper
amazing colour gradients
break-resistant lead
exciting watercolour effects
Clever storing with JOLLY BIG BOX!
240 colouring pencils in 12 colours (20 per colour)
stackable boxes
easy cleaning
stable plastic
The strong lead is 3,8mm thick!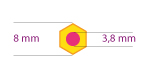 Colouring pencils Supersticks Aqua Big Box
Supersticks Aqua BIG BOX – the box contains 240 coloured pencils in 12 shades. Painting fun for larger groups of children – even if everyone wants to paint with the blue one at the same time 😉
The package contains crayons in these Bright colours:
102 light yellow
104 orange
106 cherry red
109 cyclamen
110 flesh pink
111 violet
112 light blue
114 ultramarine
116 light green
117 dark green
121 sepia
122 black
---