Supersticks Classic Classpack
Supersticks Classic Classpack: The containers help to organise the pens and keep a better overview. Kids love the great variety of colouring pencils the large, robust cardboard offers!
In Classpack the crayons are also correctly stored. So they are perfect for children's groups. Compartments inside the box help you to see quickly if all pens have been returned after use.
Supersticks colouring pencils are tried-and-tested coloured pencils from Jolly. Bright colours, ultra-strong wooden sleeves and the well tested Jolly leads have made our Supersticks the most popular coloured pencils for drawing and colouring for generations.
strong lead
breakage-resistant
ultra-strong wooden sleeves
rich colours
long-lasting drawing fun
The strong lead is 3,8 mm thick!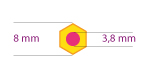 You can use them on sturdy drawing paper, like in the Jolly drawing pad, for even more drawing fun. To keep your Kinderfest colouring pencils always sharp,
use a sharpener from Jolly. See more here.
The package contains crayons in these Bright colours:

2 light yellow
4 orange
6 cherry red
7 crimson
8 cyclamen
9 pink
12 light blue
14 dark blue
15 light green
18 dark green
21 medium brown
24 black
Using the crayons with its rich colours ensures particularly colourful drawings and sparkling children's eyes!
---