Supersticks Mini 6 Colours
Supersticks MINI 6 colours are the ideal gift for small customers. These half sized pens are childproof and unbreakable. Stable leads and rich, bright colours make for particularly beautiful drawings! The hexagonal pin shape ensures ergonomic fitting. Jolly has been offering quality from Austria for generations!
• thick lead
• breakage-resistant
• ultra-strong wooden sleeves
• rich colours
• long-lasting
The strong lead is 3,8 mm thick!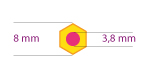 The crayon's painty colours make for particularly colourful drawings and sparkling children's eyes!
The package contains crayons in these Bright colours:
2 light yellow
6 cherry red
14 dark blue
18 dark green
21 medium brown
24 black
To keep your Kinderfest colouring pencils always sharp, use a sharpener from Jolly. See more here.
---