Math Pencil  
Our JOLLY math pencil makes calculating easy! Every pencil has two different leads: a graphite lead and a coloured lead (red, blue, green).
The graphite lead is used for 1 digits, the coloured one for 10, 100 and 1000 digits and arithmetic symbols.
Simply turning the pen around maintains the flow of writing as well as concentration. Like all JOLLY pencils,
the math pencils also feature an ultra-strong wooden encasing and a break-resistant lead. 
two leads in one pencil
thick lead
break resistant
strong wooden casing
easy arithmetic learning 
leads in blue, red, green 
The strong lead is 3,8 mm thick!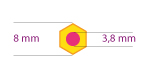 ---