Supersticks Crazy 24 Colours
Supersticks Crazy 24 colours – double fun with 12 coloured pencils in 24 shades! Each colour pencil paints in two colours. So twice as many colours use the space of 12 crayons! Childproof and unbreakable, the coloured pencils made by Jolly are perfect for colourful drawings. The solid lead and bright colours make for particularly beautiful pictures! The hexagonal shape ensures that the pen fits well in hand.
two colours in one pencil
thick lead
break resistant
strong wooden casing
bright colours
long-lasting drawing fun
The strong lead is 3,8 mm thick!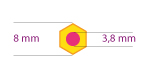 Sparkling children's eyes with beautiful drawings – made with coloured pencils from JOLLY!
Matching sharpeners made by JOLLY: see here.
The package contains crayons in these bright colours: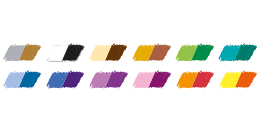 gold/silver
black/white
dark brown/ivory
medium brown/ochre
dark green/light green
bluish green/turquoise
dark blue/pale blue
blue-violet/cobalt blue
lavender/cyclamen
purple/pink
crimson/orange
vermilion/light yellow
---